■ Latex Care
Do you wonder how to wash and take care of your latex clothing? We recommend these steps to ensure that they will last longer and look better.
1. Washing
First step is to wash it with mild liquid soap. Put your garments in a plastic container (for example, a dish pan or a bucket) and add lukewarm water. Use a small amount of soft liquid dishwashing soap (or it could be liquid soft detergent for clothes). Not too much of it. Wash with your hands. You can allow to soak for a few minutes. Do not put in a washing machine, use soap powder or dry clean.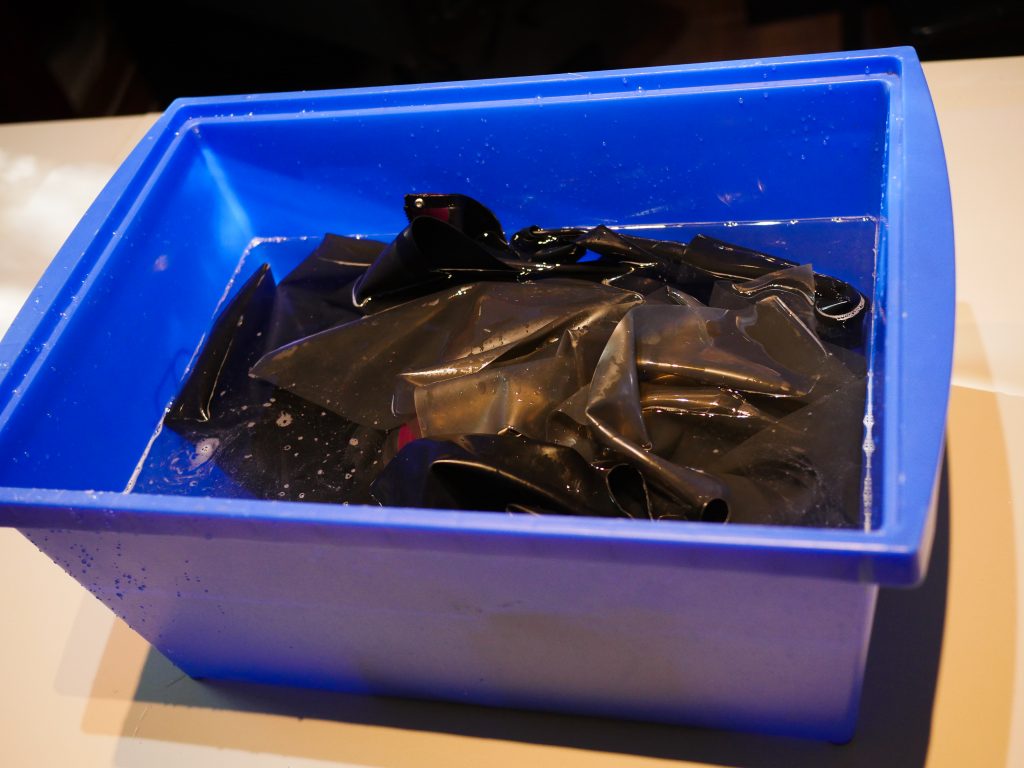 2. Rinsing
The second step is to rinse the garments with water to remove remaining soap. Soak again the garments in lukewarm water and be sure all the soap is removed.
3. Treating
The third step can vary:
A. You can hang dry right away the garments with plastic or wood hangers, and when dry store them directly. Optionally, you can put some talc powder (scented or unscented) inside the garments when dried. It is to keep them dry but this way is mostly useful when you have stockings, gloves or a catsuit because it makes them easier to put on.
Check this tutorial: How to Clean Latex Clothing – Latex Rubber Care
B. Another option is to dilute latex polish in water to shine the garments. Put garments (it's not necessary to shine them individually) in your dish pan or bucket and fill it with lukewarm water. Add only a small quantity of latex polish. Start with about a teaspoon then mix with water and stir garments so that the polish can stick to it. You can add some latex shining if it's not enough shiny. The advantage of this technique is that your garments are already pre-shined when you want to wear them.
See this video: Latex Polish – How to use
4. Drying
Then hang dry the garments. Note that you can also add talc powder inside the garments at this point.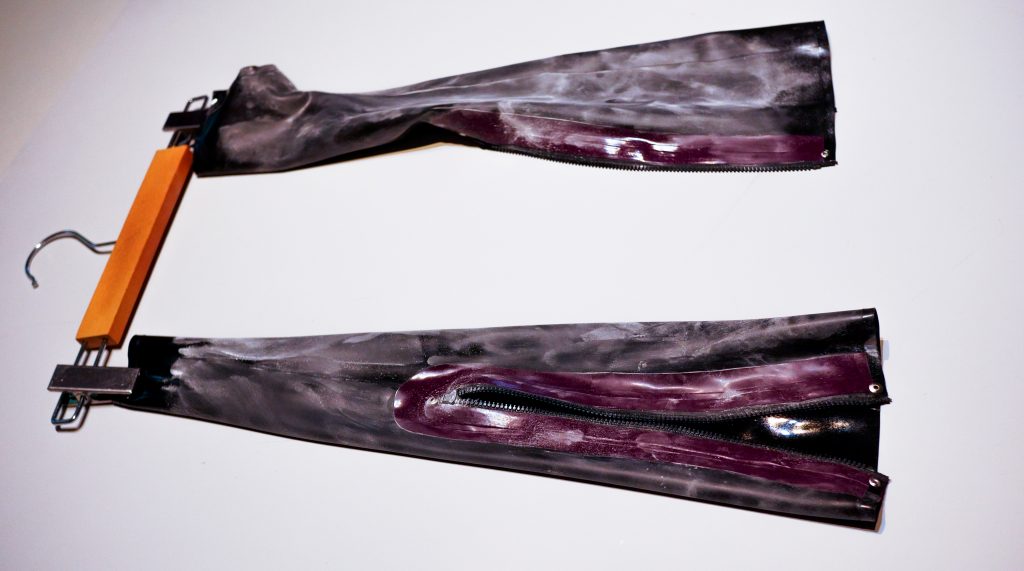 5. Storing
The fifth step consist of storing the garments: store them in a dry and dark place. It is important that you don't use metal hanger when you store the garments because latex react badly with metal when in long contact with it. Same with the sunlight: it can damage the garments. Latex react badly to sunlight: long term exposure to ultraviolet light causes latex to breakdown chemically. So avoid all contact with metals and store in a dark dry place.
6. Suit up
When you put on the garments, you can use latex shining and/or latex shine spray to shine them. You can get these products from suppliers like BeGloss, Vivishine or Pjur. Also, avoid contact with all oils – oils can permanently stain or otherwise damage latex so keep away from greasy fingers, baby oil, moisturizers which are oil based and fake tan (which will also stain).
And, last but not least, enjoy & have fun!
■ Other good references about latex care
How to shine and clean rubber fetish clothing (Youtube video)
12 lessons you must learn about latex clothing (Blog post)