■ Know what to expect when you buy real latex clothing
Have you ever wonder what is the difference between latex, rubber, PVC (or vinyl) and silicone? This is sometime confusing because some use the terms equally. We will explain the difference so you know what to expect when you buy real latex clothing.
■ Latex & rubber
First, we have to distinguish the terms latex and rubber. The two words refers to different materials.
Rubber and latex are not the same…
But many people use the words as if they both referred only to natural rubber, which is the material derived from the milky white sap of rubber trees. There are actually a large number of materials characterized as rubbers or, more generally, as elastomers. These vary widely in chemical structure and application, and all of them synthetic except for natural rubber.

Are rubber and latex the same thing?
The word latex can refer to natural or synthetic materials. In the clothing industry, natural rubber latex is usually used to make the latex sheets used to make garments.
Natural Rubber Latex
Natural Rubber Latex refers to the white sap that comes from the hevea brasiliensis tree. This sap can be further refined and compounded to render it more readily processed and to optimize physical properties. […] Products manufactured from natural rubber latex tend to be very pure and have the enhanced physical properties that natural rubber latex are known for – outstanding elongation, tear properties and recovery.

The differences between "latex" and "natural rubber"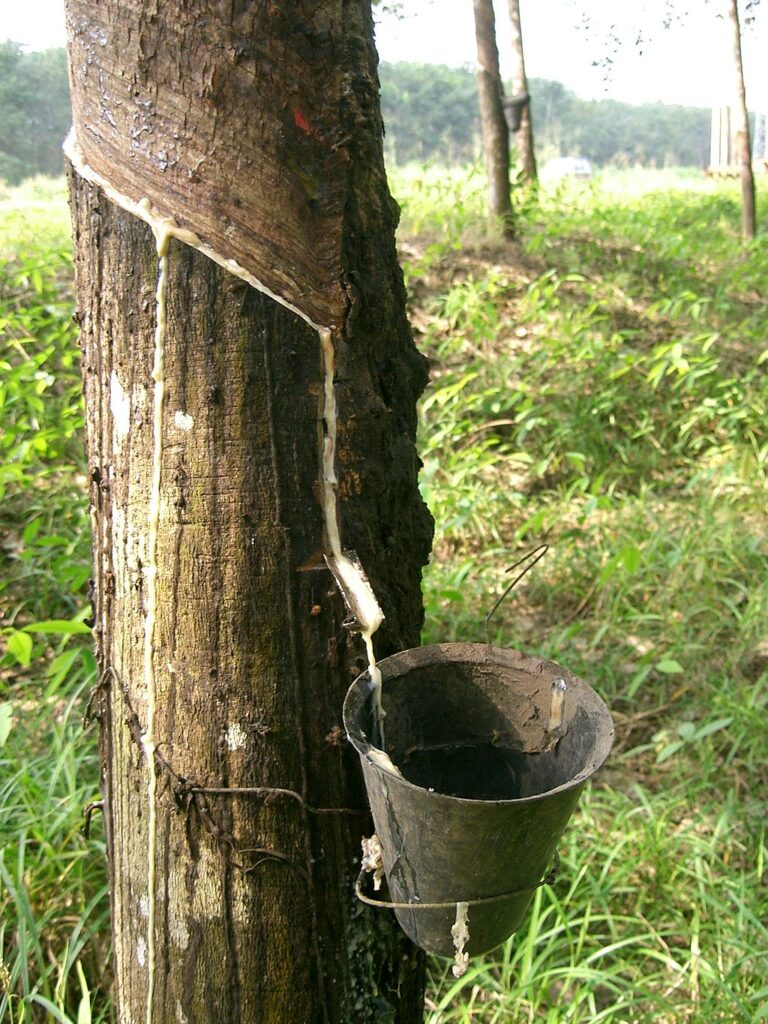 For example, we use Radical Rubber Latex Sheeting that is "made from pure natural latex and is free from silicone and other additives" (Radical Rubber web site) and MJTrends "natural based product" (MJTrends web site) for crafting our made-to-measure latex garments and accessories.
■ PVC & vinyl
PVC, unlike natural rubber latex, is not made from plant latex. It is a plastic material made from crude oil. This table below sums up the difference between rubber and plastic. Note that rubber can be made from plant (natural latex) or from oil.
| | | |
| --- | --- | --- |
| Parameter of Comparison | Rubber | Plastic |
| Definition | A polymer, Rubber is a material that is either acquired through natural means i.e. rubber plants or by using petroleum oil. | A polymer, Plastic is a material that has the power to be shaped and formed by the appliance of warmth and pressure |
| Features | Elasticity | Plasticity |
| Origin | Two ways Rubber may be acquired is either from industrial/commercial methods or natural sources. | Plastic is created through industrial/commercial methods. |
| How it is produced | Rubber is created either naturally through rubber trees producing rubber latex or may be created commercially from petroleum oil and natural gases. | Plastic is created with the help of crude oil (by-product) as the beginning material. |
Source : Difference Between Rubber and Plastic
And what about vinyl? Is it the same material than PVC? Again, these two terms are sometime used with no distinction.
Vinyl and PVC can often be confused with one another, but the truth is that these two materials are not the same. Vinyl is a radical of ethane that refers to many different ethylene-based compounds and PVC is polyvinyl chloride and a polymer of vinyl chloride. PVC is a type of vinyl and is one of the most popular construction materials on the market. PVC stands for polyvinyl chloride and is relatively inexpensive.

Is Vinyl the Same Thing as PVC?
PVC
Polyvinyl chloride, denoted as PVC, is a synthetic polymer produced by the monomer vinyl chloride. Vinyl chloride is an alkene derivative containing a substituted chlorine atom instead of a hydrogen atom. In the production of PVC, an addition polymerization takes place by arranging the monomers in head to tail fashion. This is a linear polymer. In the polymer, chlorine atoms occur in an alternating pattern. Thus, about 57% mass of PVC consists of chlorine. PVC is analogous to polyethylene.

Difference Between PVC and Vinyl
Vinyl
Vinyl is a functional group with the formula −CH=CH2. According to the IUPAC nomenclature, we can name it as "ethenyl". This functional group is derived from ethene. When one hydrogen atom of ethene is replaced with another atom, it becomes a vinyl group.

Difference Between PVC and Vinyl
■ Silicone
Lastly, silicone is another term that can be confused with latex, rubber, PVC and vinyl. Silicone, like PVC, is a type of polymer.
Silicone is a type of polymer known as an "elastomer" – these polymers are stretchy or elastic. For many applications, it is not quite clear which elastomer is the best to use. Probably the most well known elastomer is natural rubber, commonly known as latex. […]
Natural rubber, with the chemical name polyisopropene, is produced naturally from the sap of the rubber tree. Silicone, on the other hand, is a synthetic material. While both materials are elastomers, they differ in many of their properties.

Silicone vs Natural Rubber
■ Conclusion
Be sure to know the difference between real natural latex and other materials made from oil when you buy shiny clothes. These materials don't have the same proprieties. And be aware that some sellers identify PVC, vinyl and silicone garments as latex or rubber garments!
Here at Exo Latex, we use mostly natural rubber latex sheeting produced form sap of the rubber tree to make our clothing and accessories.